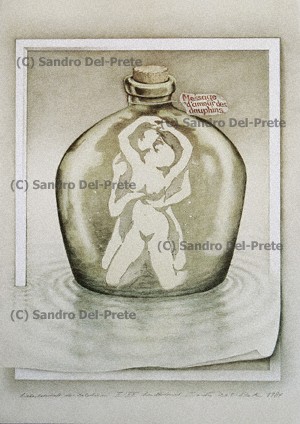 When you come to Europe (with your kids), don't miss the little perception museums:
| | |
| --- | --- |
| | "Turm der Sinne" in Nürnberg! |
| | Bernd Lingelbach's "The Barn"! • 3sat Video • Phoenix Video |
| | Explora (Erlebnismuseum, Frankfurt) |
| | Illusoria-Land in Switzerland. Check out the dolphins, supposedly visible only to kids |
| | A fun perception museum in Edinburgh/Scotland is the Camera Obscura, and further north in Kirriemuir |
| | Also in Edinburgh is the natural science museum Dynamic Earth. In Dundee there is sensation |
I wanted to limit the fun part to Europe. Oh well -- what the heck; here are more, elsewhere. It probably all started with the Exploratorium in San Francisco, which you all know. Here are some that you don't know:
PuzzlingWorld

is in New Zealand. It has the largest Ames room of all and a great suite of tilted rooms, according to Robert O'Shea.
Art connected to Vision Science
Illusions
Another illusions resource list with (partially outdated: Herrmann grid) explanations and a somewhat misleading (because health-related) title, from Bradley Univ., IL:
"A Nurse's Guide to [...] Illusions"

New Optical
Illusions.com

Martin Mißfeldt from Berlin plays with classical illusions. Check out his Old/young woman video

Campbell-Robson Chart (Izumi Ohzawa)
Optics4Kids from OSA
Kid's Pages from NIH
Neuroscience for Kids
Unite for Sight, for Kids
Promotional Link Collections
Amazingly often, link collections on illusions are put together to promote a shop that carries material somehow related to vision. These link collections are generally interesting to browse through. What I don't like is a tendency to plagiarize others' work; they rarely give credit to the artists and often give little sound explanation for the illusion. Hmm. So, with hesitation, here are a few:
Deceiving Art: A Guide to Stereograms
Understanding perception (Nothing is really explained, though.)